MulticolorEngine
Search by color. Remarkable, addictive color search for your photographs and products.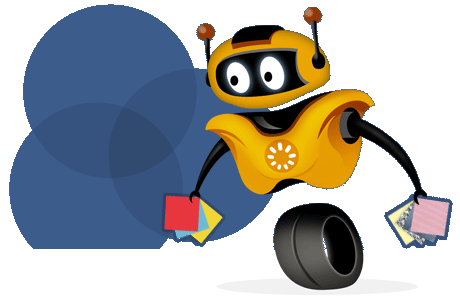 MulticolorEngine is very likely the best color search engine in the world*. MulticolorEngine lets your users explore your products or images using colors.
What is
MulticolorEngine?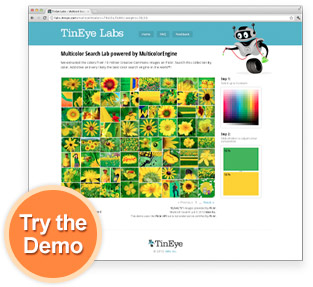 labs.tineye.com
MulticolorEngine is a color search API for use with your image collection or products. It allows you to find images that best match one or more colors.
MulticolorEngine lets you search your image collection or products using colors. It is automated, accurate, fast and remarkable.
MulticolorEngine:
Eliminates the need for manual tagging of colors in images.
Lets you and your customers find images that best match a single or multiple colors.
Enhances image collection exploration.
Creates addictive experiences.
Is fully hosted and is easily integrated with your website, enterprise solutions or web services.
Supports a full set of metadata search capabilities, allowing you to build interfaces that can, for example, find all products priced less then $50.00, in the 'shoe' category that most closely match a particular shade of yellow.
Allows you to extract the color palette from an image or a set of images. For example, if you were an online shoe store, you could get a palette showing all the colors available for a particular shoe style.
Can also provide a count of the number of products you have that match a particular color, allowing users to easily browse your collection by color.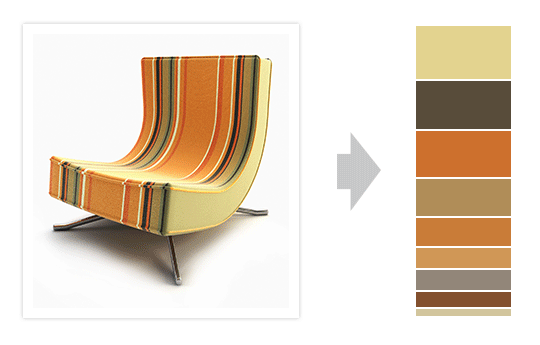 Take the MulticolorEngine for a spin and explore by color 10 million creative commons images in our lab.
Using
MulticolorEngine
MulticolorEngine is delivered as a fully-hosted web API. It runs over HTTP using a REST protocol and JSON or XML formatted responses.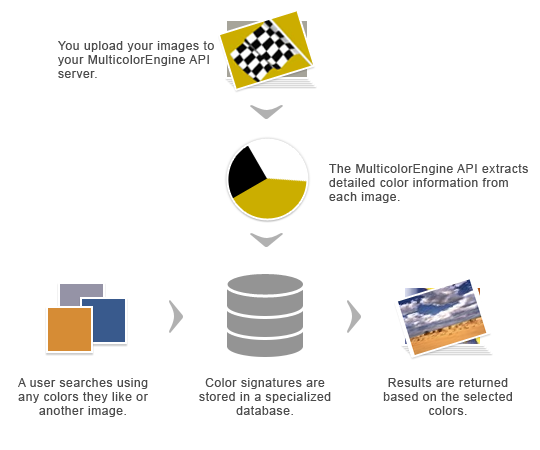 Our MulticolorEngine API gives you the ability to search your images using colors as a search parameter. You are familiar with searching using keywords: you provide a keyword to a search engine and it replies with a list of search results that include that keyword. With MulticolorEngine, your search query is one or more colors and the results are images that contain your query colors.
The MulticolorEngine starts by indexing all the images in your collection. The indexing process involves extracting detailed color information from each image in your image collection. The extracted color information is stored in our specialized MulticolorEngine colorDB. This indexing process facilitates fast searching based on colors and allows our MulticolorEngine to scale to searching hundreds of millions of images. The MulticolorEngine colorDB can also maintain additional information about your images (e.g., tags and categories) and allow you to search based on this information.
Finds images best matching any colors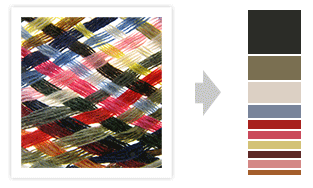 MulticolorEngine generates a precise color representation for any image that it indexes. This color index is then used to return best color matches for any image.
Integrates easily with your existing technologies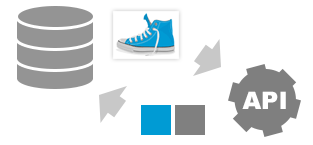 As a fully-hosted API, MulticolorEngine is not dependent on the programming languages, back-end technologies or operating system you currently use in your technical environment.
You can continue to hold your product or image information in your existing database. MulticolorEngine can return the same image or product identifiers you use now, along with its color search results.
Ignores solid and transparent backgrounds in images

Most products are photographed on a solid background. MulticolorEngine has been designed to ignore solid or transparent background colors when indexing images so that your image background is not included in your color index.
Extracts color palette of individual images or sets of images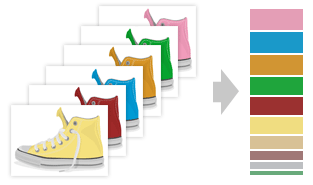 MulticolorEngine is able to not only return colors existing in a single image but it can also extract colors from a set of images. Using this feature you could display all the colors you have available in sofas, chairs and tables, and then let a user filter their search to only display green chairs.
Supports metadata searching
You are probably already using a search technology, a content management or publishing system or an e-commerce platform. MulticolorEngine supports any arbitrary meta data and category structure.
Is fast, accurate and scales to any size image collection

MulticolorEngine has been developed by the team behind TinEye. TinEye is the world's first reverse image search engine. Give it an image and it will tell you where that image has appeared on the web by searching it's multi-billion image index.
MulticolorEngine technology is fueled by TinEye's ongoing image recognition research and development. As a company, we have spent a decade working on image search and recognition, visual similarity and image tracking.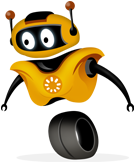 MulticolorEngine
Plans & Pricing
Pay As You Grow

Basic

Corporate

Enterprise

Fee
Setup Fee
$500
$500
$500
Please Call
Monthly Searches
$0.01

/search

60,000
300,000
Up to 50 million
Image Collection Size
$0.01

/image per month

20,000
200,000
Up to 500 million
Additional Searches
-
$0.005

/search

$0.0025

/search

Please Call
Additional Collection
-
$0.005

/image per month

$0.0025

/image per month

Please Call
Private Image Collection

Yes

Yes

Yes

Yes

Encryption Support

No

No

Yes

Yes

SLA

No

No

99.5%
Up to 99.95%
Dedicated Server

No

No

Add-on
Add-on
Email Support

Yes

Yes

Yes

Yes

Phone Support
Cancel at any time
Need a custom plan? Email us or call us at + 1 416 860 0330.
Base monthly fee, charged in advance of the month. Any overusage fees are charged the following month.
This is a one-time fee to set up your API.
The number of searches you can perform each month without additional cost.
The maximum number of images you can have in your search collection with no additional cost.
Per-search fee for use beyond your monthly limit.
Monthly fee for usage beyond your image collection size, calculated based on daily average.
Your images are not visible to anyone else.
API calls can be made over HTTPS.
Service Level Agreement. We guarantee this level of uptime per month.
The physical computer(s) used to host your API and images will not be used for any other client's API.
Weekdays, 10am to 5pm ET.
Weekdays, 10am to 5pm ET.
Cancellation will take effect at the end of your current billing period. You will not receive a refund for billing that has already occurred.
All API licenses are subject to the TinEye terms of service
Your credit card details are required for the signup.
Minimum billing: one month. You can cancel your API account at any time.
Before you sign up be sure to read our Frequently Asked Questions.
Need to speak to someone?
Call + 1 416 860 0330 or send us an email and we will be happy to answer your questions.
MulticolorEngine Support &
Frequently Asked Questions
* Forgive us, we are biased.